Suicide touches us all
Sep 29, 2022, 17:03 PM
A personal account from a CareOregon employee on how suicide touches us all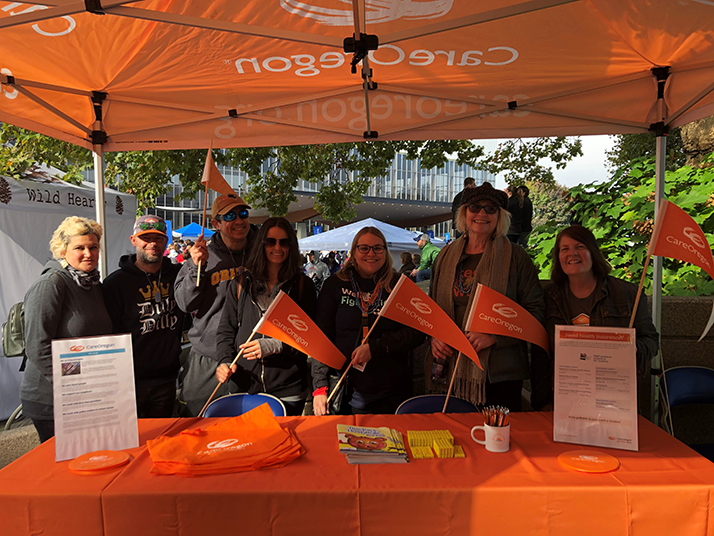 It was the first week of April, 1996 when I got a call from my mom. She phoned to inform me that my old neighbor and childhood friend, Eric, had taken his own life. I hadn't seen or spoken to Eric in a few years, as we both attended different colleges. But it didn't matter. The numbness I felt was something I had never experienced before. At 20 years old, you aren't supposed to lose your peers. My first thought was "why?" This was something that could only be answered by Eric. My second thought was "how?," which was explained in vagueness by my mom. I was in absolute shock.
My mind switched gears to his family. I knew they had to be feeling immense pain because of this loss. I could only think of his parents and especially his little brother, Brian, still in high school and now without his big brother. My thoughts then remained on the "why?"
To this day, I've never received an accurate answer to that question. Although he left notes for each member of his family, I've never asked any of them about the contents. Mostly out of respect for the grieving process and the personal nature of his words. But mainly to not reopen the old wound that his death created. As a friend, and someone left without answers, that is where I still remain.
I'm not alone either. Many people like me feel the aftermath of losing somebody they know to suicide and continue to ask why. Often, there are even more questions involved than the why. For example, I found myself asking "what could I have done to prevent it?" That, in itself, is a very loaded question, especially since nobody saw any warning signs. How do you cope with suicide, especially if you feel like you might have been able to prevent it?
How to help someone cope with suicidal death is not easy. For those that live with the pain of unanswered questions pertaining to suicide, there is hope and community relief. Each September, World Suicide Prevention Day falls during National Suicide Prevention Week, a campaign in the United States with a purpose of informing and engaging health professionals and the general public about suicide prevention and the warning signs of suicide. In hundreds of communities across the country, those affected by suicide – and those who support them, participate in Out of the Darkness Walks.
These walks, which began in 2004 by the American Foundation for Suicide Prevention (AFSP), raise awareness and much-needed funds, strongly sending the message that suicide is preventable, and that no one is alone. At these events, courageous people open up about their own connections to suicide, and all participants are provided with a platform to create a culture that's smarter about mental health. Friends, family members, neighbors and coworkers walk side-by-side, supporting each other and in memory of those they have lost. Every dollar raised through the Out of the Darkness Walks allows the AFSP to invest in life-saving research, education, advocacy, and support for those impacted by suicide.
In September of 2019, I did my first Out of the Darkness Walk. A colleague of mine here at CareOregon organized a team to raise awareness for suicide prevention and invited me to come (see picture above). She had recently lost a close friend to suicide. Her loss was fresh, more recent than the 23 years that had passed since Eric's, but it was equally devastating. Any suicide is. And because it had been such a long spell since Eric's death, I reached out to Brian and invited him to join us. He accepted the invite and we walked together, in Eric's name. It was a great experience for the both of us, and very cathartic. We both acknowledged that the best part was contributing to a cause that could help someone else in crisis. We did it so that no loved one would have to receive a goodbye letter the way that Brian did.
CareOregon is proud to sponsor this year's Out of the Darkness Walk taking place on Saturday, October 1, 2022. This year, in addition to the in-person walks, AFSP has created a video that highlights the work of the Oregon chapter, honors the loved ones we've lost, our own struggles and celebrates hope. For more information on the walk and to register, click here.
If you are a CareOregon member experiencing a mental health crisis, or wondering what to do if someone you know is showing suicidal signs, YOU ARE NOT ALONE. Please call one of the following local numbers to talk to someone who wants to listen to you:
In Clackamas County: 503-655-8585
In Multnomah County: 503-988-4888
In Washington County: 503-291-9111
Or, you can call the National Suicide Prevention Lifeline at 1-800-273-TALK (8255) or contact the Crisis Text Line by texting TALK to 741741.
SOURCES:
https://supporting.afsp.org/index.cfm?fuseaction=cms.page&id=1924
https://supporting.afsp.org/index.cfm?fuseaction=cms.page&id=1370&_ga=2.129642060.1705222032.1654101545-1562768738.1654101545&language=en