As a CareOregon provider, you may have specific questions for us. Below, you'll find contact and procedural information for providers. If you are looking for specific forms and policies, visit our provider page and select your area. Please click on a topic below to get started.
Please call Provider Customer Service at 503-416-4100 or 800-224-4840. Press option 3 for provider.
Care Management Department
Fax: 503-416-3637 or 800-862-4831
Verifying clinics' email addresses
CareOregon is confirming clinics' email addresses to ensure we can contact you with system alerts and other critical information. Please send the email address(es) that you want CareOregon to use when contacting your clinic to careoregonalerts@careoregon.org. Be sure to identify each email with a name and job title.
Need to change your clinic info?
Send changes or updates to providerupdates@careoregon.org.
Provider relations specialists

View our
team assignments list
to find your specialist. Fax us at 503-416-1478 or 800-874-3916.
CareOregon provides plan services to three Coordinated Care Organizations (CCO) and offers a Medicare Advantage plan supporting and enhancing sensible, localized, coordinated care.
If you are interested in becoming a contracted provider, please review our credentialing requirements (outlined in our CareOregon Provider Manual).
If you have additional questions, or would like to learn more about requesting consideration for a contract, please contact Customer Service at 800-224-4840 or 503-416-4100. You may also complete the New Contract Requests form here. Please be certain to include all applicable fields for consideration.
Thank you for your interest in joining CareOregon's provider panel!
CareOregon helps you coordinate interpreters for patients who prefer or need a language other than English. Please click here for resources, including forms to request interpreting services, a language ID tool for your facility, "I speak" cards, and more.
What is a Regional Care Team?
CareOregon Regional Care Teams (RCTs) offer providers a community of resources with a single point of contact for you and your patients. RCTs work closely with providers and members – through both telephonic and community-based support – to smooth the way to better care and better outcomes. Click here to view our Regional Care Team overview in PDF format.
Our purpose
With care coordination through RCTs, we will deliver the right care, at the right time, in the right place, with the right team.

Members will have a consistent care team that will collaborate across disciplines to develop and implement a member-centric care plan through telephonic, electronic or community-based interventions to resolve identified needs and promote healthy outcomes.


Each RCT is made up of care coordinators with a variety of backgrounds and experience, including:
Nursing
Behavioral Health
Substance Use Disorders
Pharmacy
Health system navigation
Local community resources
And others
How do I make a care coordination referral?
Online: Submit a completed Care Coordination Referral form and we'll route it to your assigned RCT.
Email: Send us a completed form to ccreferral@careoregon.org.
Collective (PreManage): If your clinic uses this online platform, check the RCT tag after searching for your patient.
Call: Check the list below to see where your clinic is assigned, and call that number.
Not sure which RCT to contact? Call our general care coordination line at 503-416-3731 or Customer Service at 503-416-4100 and we'll connect you to your assigned team.
---
How RCTs are structured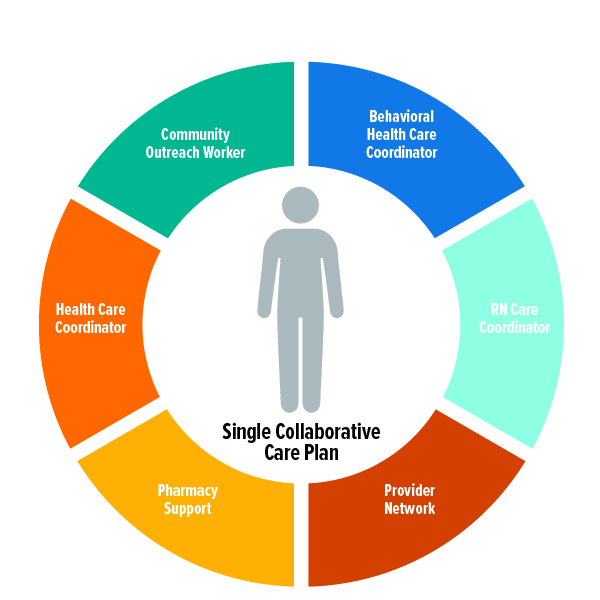 Find your local RCT
Regional Care Team

Region / Clinic System

Phone number

Steel

Washington County


OHSU Clinics
House Call Providers

503-416-3727

Abernethy

Clackamas County
Adventist Clinics

503-416-3729

St. Johns

Multnomah County - west of I-205

503-416-3726

Tilikum

Multnomah County - east of I-205

503-416-1770

Sellwood

Maternal Child Health
Pediatric Clinic
Foster Care Youth
503-416-3768

Burnside

Central City Concern
503-416-3657

General/Unassigned

No RCT Assignment
or Unknown

503-416-3731

Table header is decorative
CareOregon Connect to Care
What is Connect to Care? And how can it help your patients?
We all know that Medicaid and the Oregon Health Plan (OHP) can be complicated, but we're here to help make it easier for current and prospective members. How do we do that? With Connect to Care, CareOregon's community outreach program.
You might have seen or heard of Connect to Care before, when it was called goMobile. But we changed the name so that it's easier to understand what we're all about – connecting people with the care they deserve.
Every month, Connect to Care comes out to the communities where your patients live, all over the Metro area – including Clackamas, Multnomah and Washington counties. We find out if they have Medicaid, and if they don't, we can help them get signed up for it through the Oregon Health Plan. That means they can get physical health care, but also dental and mental health care, too.
And if they already have health insurance through OHP, we can help them manage their health care.
There are lots of things Connect to Care and our partners are here to help your patients with:

See if they're eligible for Medicare and help you enroll in the Oregon Health Plan

Help set up their medical, dental and behavioral health appointments

Order replacement Member ID cards

Connect them with trained staff to help coordinate their health care needs
Connect to Care goes out to locations all over the Metro area. Where will we be next?
Find out here
or call our Customer Services at 503-416-4100 or toll-free 800-224-4840.
How to submit claims
When submitting claims to CareOregon, you have several options:
Send claims electronically using our payer ID 93975. Please contact Change Healthcare at 877-363-3666 for more information.
Mail paper claims to:
Claims, CareOregon
PO Box 40328
Portland OR 97240
Please note:
Send electronic claims to payer ID (93975). Send CareOregon Advantage and OHP electronic claims to the same payor ID (93975). Do not bill separately for each plan.
Electronic HIPAA transactions
The AMA recognizes electronic health care transactions as a cost saving, efficient way to do business and allows physicians to refocus resources on patient care. The links below provide information regarding various electronic transactions such as submitting claims, receiving payments and remittance advices.
To access your remittance advice electronically:
To receive payments via Electronic Funds Transfer (EFT):
CareOregon provides a couple of options for electronic payment.
1. Enroll with CareOregon ePayment Center, administered by Zelis for ACH direct deposit payment, at no cost. Please contact Zelis at 855-774-4392 or help@epayment.center for instructions on how to register and enroll. Please note, TIN verification is required for registration and enrollment.
2. Enroll with Zelis Payment Network for ACH direct deposit payment or virtual credit card for a small fee (this is separate from CareOregon's free ePayment ACH option noted above). To enroll with the Zelis Payment Network, go to their website at https://www.zelis.com/provider-enrollment/, or you can call them at 855-496-1571.

Please note: CareOregon is not involved in any relationship with providers and Zelis Payments. It is strictly between Zelis and you, the provider.
To receive electronic remittance advice:
835 form: Please complete and fax back to the number listed on the bottom of the form
835 information guide

Important: 835 enrollment is available through CareOregon ePayment Center, administered by Zelis. If enrolling with the ePayment center, please do not submit this form. Instead, select the option for 835 enrollment upon registration through the ePayment center.
To submit claims electronically:
To submit claims electronically, use the same EDI Payer ID #93975 for all CareOregon entities (CareOregon Dental, CareOregon Advantage and CareOregon Medicaid claims). Do not bill separately for each plan.
For EDI claims for which additional paperwork or documentation will be submitted, complete this form and indicate submission in the PWK segment (Loop 2300).
Contact your practice management system vendor or clearinghouse to initiate electronic claim submission. CareOregon accepts HIPAA-compliant 837 electronic claims through our clearinghouse, Change Healthcare. Change Healthcare will validate the claims for HIPAA compliance and send them directly to CareOregon. Change Healthcare offers several solutions for providers without a practice management system or clearinghouse. Contact them at 866-369-8805 for medical claims and 888-255-7293 for dental claims.
Information on filing claims and pricing
See Also:
Claim inquiries
You have several options:
Send your emailed claims inquiries to claimshelp@careoregon.org. Note: All emails containing protected health information (PHI) must be sent in a secure manner. We are unable to respond to emails that are not sent securely.
Call: 503-416-4100 or 800-224-4840. Press option 3 for provider.
Fill out the Provider Claim Appeal form.
Reporting
CareOregon takes fraud, waste and abuse very seriously. If you suspect that benefits aren't being used correctly or want to report a case of waste, abuse or fraud, please contact Ethics Point at 888-331-6524. You also can file a report online at  www.ethicspoint.com.
Providers should report any instance of FWA to CareOregon within three (3) days of discovery.

Training
Providers must complete training designed to educate on ways to prevent, detect, and correct instances of FWA.
Training must align with the materials presented in:
If you have questions, please contact:
Karissa Smith
Director, Care Coordination
smithk@careoregon.org
503-416-3409
Please complete and submit the following Model of Care Clinic/Practice Attestation once you've completed the training.