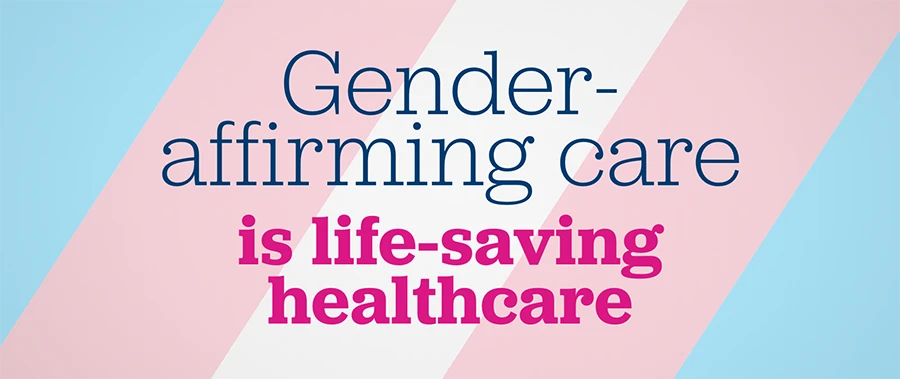 Whether you are transgender, non-binary, intersex, or somewhere else along the gender spectrum, your providers should understand that you know yourself best. Learn about the options you have as you interact with the systems and providers involved in gender-affirming care, provided by CareOregon.
Please note: We use medical terminology for clarity and ease of access when it comes to exploring gender-affirming surgery. We understand that you may not identify or feel comfortable using some of these terms to describe your experience and body.
What is gender-affirming care?
Most broadly stated, gender-affirming care is care that respects and validates a transgender, non-binary, or intersex person's experience. In terms of accessing transition-related treatment, gender-affirming care refers to interventions that support people in their gender transition.

Click on a link below to view our gender-affirming care handout:
What type of gender-affirming care does CareOregon cover?
CareOregon's coverage includes most transition-related healthcare under the Oregon Health Plan. These services include coverage for puberty suppression, primary care and specialist doctor visits, mental health care visits, hormone therapy, lab work, and some surgeries.
Click on the arrows below for dropdown lists of covered medical and surgical services. If you have questions or don't see your desired care listed, please call Customer Service at 503-416-4100, toll-free 800-224-4840 (TTY 711) for additional information.
Please note: Services are listed here as a general guide and may have specific requirements necessary for coverage.
Listing here does not guarantee coverage in all situations. Services may require prior approval.
Hormone therapy
Puberty blockers
Hormone blockers
Mental health therapy, including letters of support
Lab work
Surgical site hair removal (laser and electrolysis)
Pre-and post-surgical pelvic physical therapy

Mastectomy & chest reconstruction
Breast augmentation & mastopexy
Urethroplasty
Penectomy
Orchiectomy
Phalloplasty
Metoidioplasty
Scrotoplasty
Penile & testicular implants
Scrotectomy
Vulvectomy
Nullification surgery
Clitoroplasty
Vaginectomy
Vaginoplasty
Vulvoplasty
Hysterectomy
Salpingo-oophorectomy
Facial Gender Confirmation Surgery*+
*Currently FGCS is not a covered benefit with most private insurance plans and it is a listed as a benefit exclusion with the Oregon Health Plan (OHP). In 2018 the Oregon Health Authority identified an 'exception to rule' process which allowed OHP members to still be considered for this surgery. For more information about this permanent administrative order from the State please visit: https://www.oregon.gov/oha/HSD/OHP/Policies/172-0745-05022018.pdf
+
Even with the 'exception to rule' not all patients will be authorized for this surgery. Anyone seeking to obtain FGCS through the OHP exception to rule process should expect anywhere from 1-2 years from the time of their referral being submitted to the OHSU Transgender Health Program clinic until approval from insurance and completion of surgeries. To start this process, please contact transhealth@ohsu.edu for a detailed pathway and process description.
Where can I find gender-affirming care?
CareOregon contracts with many licensed behavioral health professionals, primary care doctors, specialists (such as endocrinologists), and surgeons who can provide gender-affirming care.
Gender-affirming care providers, those with experience and training in working with people who are a wide variety of genders, can be found in the lists below.
Please note:
These lists are updated quarterly and are current as of March 31, 2023.
For security, some providers go by first name only.
Many behavioral health providers offer services statewide.
County codes: Clackamas = CL; Multnomah = MU; Washington = WA
What are the steps to accessing services?
1. Start with your primary care and mental health providers
They can help you with most everything from your initial gender dysphoria diagnosis to accessing hormone treatment and/or surgeries. In some cases, it is necessary to have a referral from a primary care provider and a mental health provider in order to schedule a consult for surgery. You can search for providers from the lists above or by calling Customer Service.
2. Familiarize yourself with medical interventions and what feels best for you
There are a variety of options available when it comes to hormonal and surgical interventions. Some surgeons in our network perform different surgeries and have different techniques they use for each. We recommend contacting a surgeon's office to review surgery types, recovery timelines, considerations and risks, along with any other questions you may have. Please note that hormonal and surgical intervention for people under 18 is limited and additional screening may be required.
3. Determine if getting a diagnosis of what has come to be called gender dysphoria is appropriate or needed to access the care you want and if so, get it in writing
Be sure your gender dysphoria evaluation is from a mental health provider qualified to diagnose gender dysphoria. Clinicians with a minimum of a Master's degree are eligible to write letters diagnosing patients with gender dysphoria for the Oregon Health Plan. These letters must be completed by a licensed clinician or an unlicensed clinician with a licensed clinical supervisor's signature. These letters may be referred to as "assessment letters" or "letters of support" and are necessary for accessing surgery and, in some cases, changing your gender marker on identity documentation (e.g., birth certificate, state ID, etc.). Bottom surgeries require two assessment letters.
If you need help with accessing services, or if you want to talk to someone about the services CareOregon provides, call Customer Service at 503-416-4100, toll-free 800-224-4840 or TTY 711.
Additional CareOregon resources
CareOregon supports transition needs outside of medical interventions. Members and their care providers can request health-related services funds (HRSF) for items or services that aren't covered under standard Oregon Health Plan services, but will improve a person's health. HRS must be consistent with a member's treatment plan, as developed by their primary care team or other treatment providers.
Some examples of items that can fall under HRSF are:
gender affirming clothing
binders
prosthetics
costs related to name changes
gender marker changes
identity documentation
and more
For more information, please visit our health-related services webpage.