We'll get you there with Ride to Care
If you have no way to get to a covered health appointment, a free program called Ride to Care can get you there. Contact Ride to Care to talk about free transportation options, including TriMet passes in Clackamas, Multnomah and Washington counties.
Most times, you should call at least 48 hours ahead. You may call on the day of the visit if it is medically necessary and urgent.
Some appointments may require you to call or get approval from CareOregon before help can be provided.

Contact Ride to Care
Portland metro: 503-416-3955
Toll-free: 855-321-4899
TTY: 711

Understanding transportation services
To make transportation services simple, we created a helpful one-page overview of transportation services and benefits. You can click on a language below to download the PDF:
Ride to Care offers three services:
| | |
| --- | --- |
| | Reimbursement: Ride to Care pays a per-mile rate for mileage to and from health care visits. You can drive yourself, or someone else can drive you. In some cases, Ride to Care pays stipends for meals and lodging when your health care needs take you outside Multnomah, Clackamas or Washington counties. |
| | Public transportation: Ride to Care provides daily or monthly TriMet Hop Fastpasses to take TriMet buses, MAX, the Portland Streetcar and C-Tran. They can also offer fare for other local transit agencies within the Health Share service area. |
| | Vehicle-provided rides: Ride to Care can schedule private and shared rides, in the type of vehicle that's appropriate to your needs. |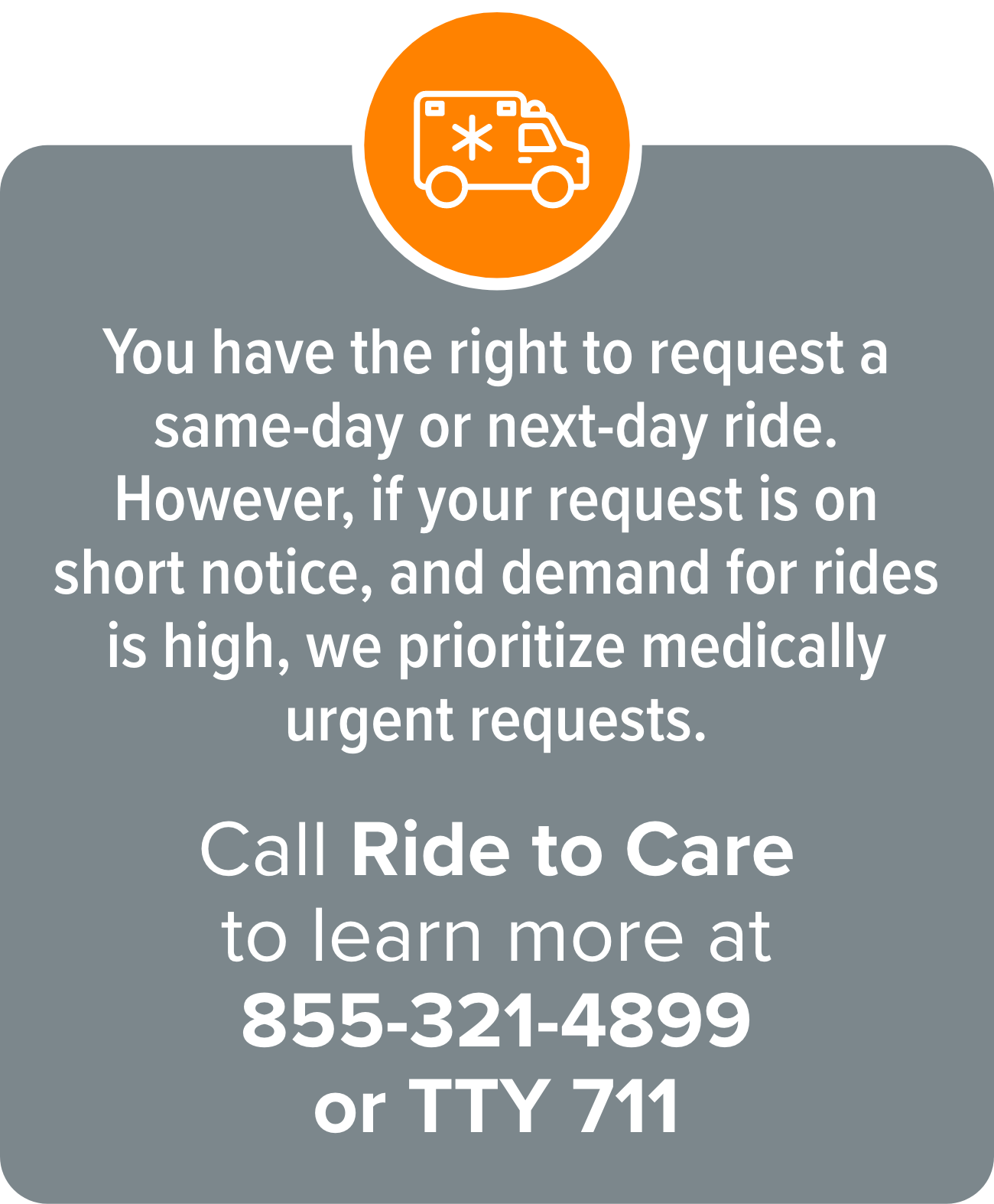 How do I get started with Ride to Care?
Contact Ride to Care to talk about your free transportation options or schedule a ride. They are there to serve you and make access to your physical, dental and mental health appointments simple.
Local: 503-416-3955
Toll-free: 855-321-4899
TTY: 711
Online: ridetocare.com
Ride to Care Rider's Guide
Check out our Rider's Guide for details about the transportation program.
If you want a printed copy of the Rider's Guide, please contact CareOregon Customer Service at 800-224-4840 or TTY 711. We will send you the printed Rider's Guide within five business days.