CareOregon takes it back to the 80's at the 2023 CareOregon Starlight Parade
Jun 2, 2023, 15:42 PM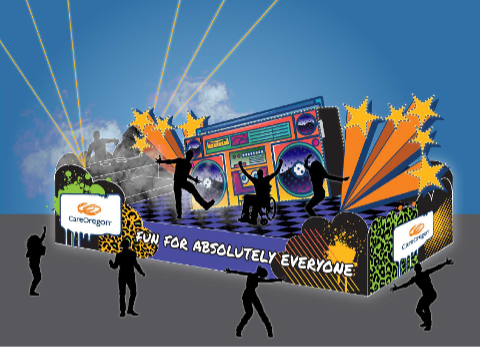 CareOregon is thrilled to present the 2023 CareOregon Starlight Parade and provide a space to come together to celebrate the incredible impact that strong, connected communities have on good health.
In the spirit of this year's Rose Festival theme, FOCUS ON FUN, CareOregon's 2023 Starlight Parade float, Fun for Absolutely Everyone, features a larger than life 80's boombox decked out with neon colors, geometric patterns, dueling DJs and even a real dance floor where CareOregon staff will show off their moves. Staff riding on the float include:
Eric C. Hunter (CEO) and Lisa Hughet (Enrollment Specialist III) who will serve as dueling DJs
And five dancers that will be tearing up the dance floor:

Heather Medina (Encounter Data Coordinator)
Sharon Sands (Health Care Coordinator)
Michael Trimble (Claims Examiner II)
Chaya Palm (HR Recruiting Assistant)
Marlinda Long (Grievance Coordinator)
Following closely behind will be the CareOregon Drill Team dancing to top 80's hits like Pump up the Jam and Gonna Make you Sweat.
"At CareOregon, our goal is to make healthcare work for absolutely everyone," said Shawn DeCarlo, CareOregon director of community benefit. "And we know that having fun and having fun together is essential to good health. That's why we're excited to sponsor this year's CareOregon Starlight Parade."
CareOregon's Starlight Parade community Partner – 4D Recovery – will also be sharing the spotlight and will have a mini float in the CareOregon Starlight Parade depicting an astronaut in a DJ rocket booth on top of the moon. 4D's staff and community will continue the party with a curated mix of 80's and 90's jams.
"We want people to know that being in recovery can be cool and fun," said Tony Vezina, Executive Director of 4D Recovery. "Being part of the Starlight Parade, it's iconic. Working in the recovery community, we're fighting stigma every day. Recovery isn't what people think. You can still have a really good time and we're hoping to show Portland that at the CareOregon Starlight Parade this year."
And last but not least, CareOregon is proud to announce for the first time ever that we are supporting a marching band in the CareOregon Starlight Parade. With the help of Portland Rose Festival Foundation, CareOregon will present the Forest Grove Marching Band in their first Starlight Parade performance. The ensemble will be rocking 80's tunes like Take on Me and Centerfold.
This year marks our second year as the parade's presenting partner.
The CareOregon Starlight Parade takes place Saturday, June 3, 2023 and continues a longtime festival tradition of illuminated floats. Participants light up the night with nearly 80 illuminated entries drawing hundreds of thousands of spectators to downtown Portland.