Most large non-profit organizations have a mission and vision for what they do. They may even have some core values to abide by. CareOregon has those things. But we also have something beyond that. Another internal set of behaviors that help us achieve the mission and vision. These are our SPIRITED Values, and they help make every employee at CareOregon successful.
SPIRITED Values
SPIRITED is an acronym. It is a combination of eight behaviors that CareOregonians recognize as necessary to the livelihood of the workplace culture. These are:
Service – acting with others in mind
Passion – loving and living our purpose
Initiative – happily going the extra mile
Results – being part of the solution
Innovation – being creative, curious, and seeking new and better ways
Teamwork = supporting, cooperating, and sharing with others
Equity – treating everyone fairly and without bias
Diversity – respecting and embracing differences

SPIRITED Committee
We have a dedicated SPIRITED Committee, made up of employee volunteers, that works to encourage all CareOregonians to better understand and express the SPIRITED Values in their daily interactions with members, coworkers and community partners.
Throughout the year, the committee plans internal events and initiatives to help employees feel recognized and connected to each other and the organization. They produce interactive staff activities that keep things fun and interesting. They also arrange mission-based events, such as interviews with local Black leaders during Black History Month, PRIDE month articles, celebrating various heritage months, and so much more.
Kudos
When an employee feels that a colleague exemplifies one of the eight SPIRITED Values, and they want to let them know, we have a peer recognition system for that. They're called Kudos cards, and there are eight: one for each SPIRITED Value. You can write a personal note on the back and send them to a colleague. Like a high five or a pat on the back from a teammate, a Kudos card is a small way of expressing thanks and praise. With everyone working remotely now, eKudos, a digital version, has become the more modern delivery system.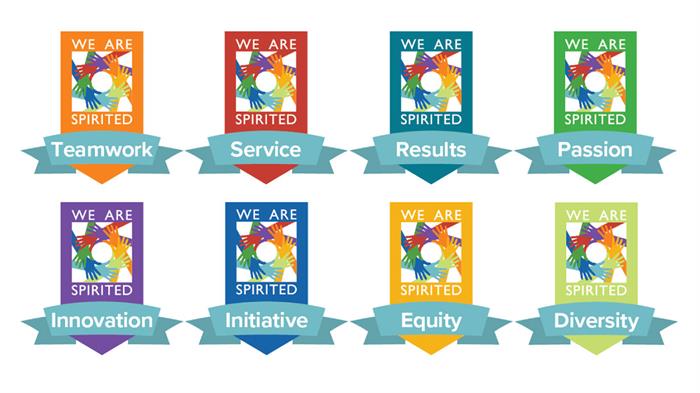 Here are some examples of recent eKudos praise given by staff to their peers:
"______ has been an incredible addition to our team. I have learned so much from having her on our team. ______ is an incredibly efficient and enthusiastic teammate!"
"I wanted to give some kudos for holding an equity lens and encouraging participants to do the same during the project management training. It is awesome to see equity popping up across the organization and to be invited to weave it into our work. Thank you!"
"______, your willingness to tackle the tough stuff is greatly appreciated. Attention to detail is recognized to help us with accuracy and our ability to rely on you to get it done right."
"_______, you have so much knowledge and compassion for you patients! Thanks for always being willing to talk though difficult situations or complex needs. Keep up the good work!"
We believe our values make us a uniquely different health organization.
We are SPIRITED.
We are CareOregon.
Want to come work for us? Check out our Careers section for the latest job openings.