This week, CareOregon and the Portland Thorns Football Club teamed up to recognize amazing teachers making a difference in our community. As part of the regional Learning Apart Standing Together community resiliency campaign, CareOregon recognized one lucky teacher with a $1,000 grand prize and three others with $250 runners up awards.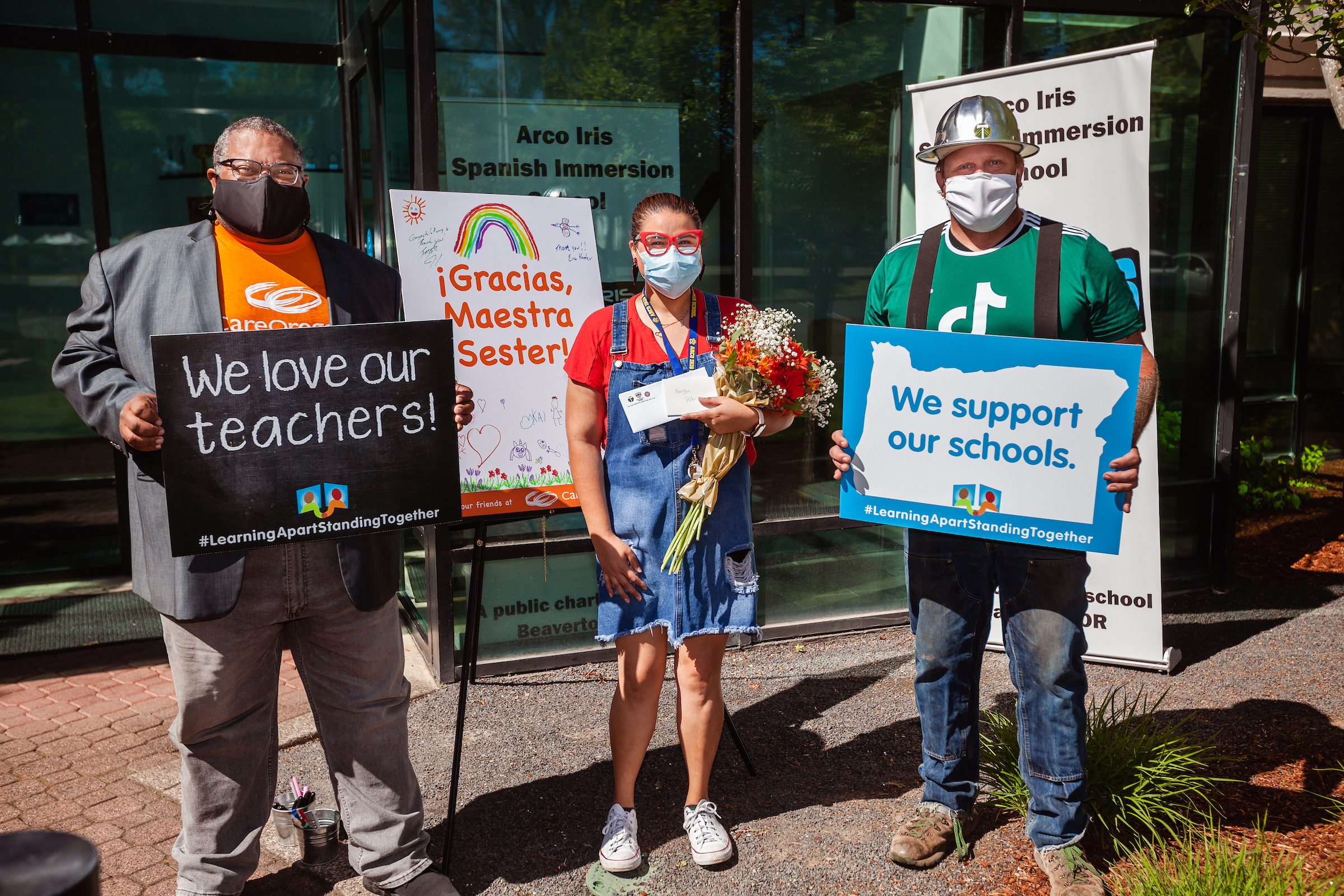 The grand prize winner, Spanish immersion kindergarten teacher Irene Sester, was also recognized with a suite at an upcoming Thorns soccer game.
Sester was nominated by one of the parents from her kindergarten class. Parent Carla Bailey said, "Maestra Sester is an absolute champion of her kinders, going the extra mile daily, with fun videos and extra learning opportunities or play dates with her via ZOOM, for support with their Spanish learning or math. She had added emotional support classes, pre-schools coming back to hybrid campus days, allowing students time to diffuse from just schoolwork and talk about their feelings."
Hailing from Peru, Sester moved to the northwest after falling in love with an Oregonian. She has taught at the Arco Iris Spanish Immersion Elementary School in Beaverton for two school years.
When asked about the award, she said "I feel very special and blessed by my parents and you all. My students are the best, and they all are learning how to navigate learning not only in English but in a second language as well. They rock and I am happy to be their teacher!"
For over 25 years, CareOregon has worked to remove barriers preventing Oregonians from living healthy, self-directed lives. Nearly half of its 500,000 members are young people under the age of 21, so it has a vested interest in the success of Oregon students.
"At CareOregon, we believe that good health is about more than just healthcare," said Eric C. Hunter, CareOregon CEO. "That's why we've made strategic investments in education and the systems that support our students. Recognizing the amazing work of teachers like Maestra Sester, is one way we can say thank you and cheer on the tireless work that our educators do every day."
Maestra Sester was recognized in a brief ceremony at Arco Iris School in Beaverton on June 3rd. With her kindergarten class sitting on the lawn, she was presented with a suite at an upcoming Thorns soccer game by Timber Joey and a $1,000 cash prize by CareOregon CEO Eric C. Hunter.
The award ceremony was part of the regional Learning Apart Standing Together campaign which aims to spread messages of positivity and resilience during distance and hybridized learning. This school year, Learning Apart Standing Together has been telling stories about teachers, school staff and community-based organizations who are working hard to bridge the gaps created by the current learning environment. It includes: Kairos PDX, Gresham-Barlow School District, Gladstone School District, Beaverton School District, Clackamas Education Service District, CareOregon, Moda Health, Kaiser Permanente, and Trillium Family Services.