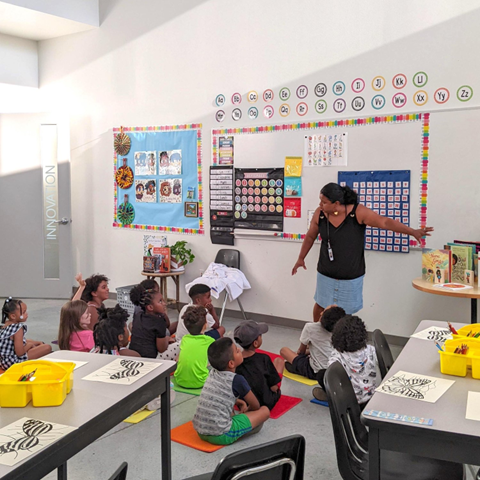 CareOregon is making large investments in the Rockwood community as part of our corporate grant cycle, including providing $50,000 to help HOLLA School scale capacity of its mentorship program aimed at supporting students of color.
The grant will help HOLLA School, a charter school in the Reynolds School District, engage more students through increasing mentorship opportunities that provide culturally responsive and culturally specific education for Black, Brown and Indigenous families. Mentors work in the classroom and school all day to build relationships with students, assist with reading, facilitate recess play and serve as a source of connection and engagement with students and their families.
"Thanks in large part to the support of CareOregon, HOLLA School will be able to expand its capacity to support Black, Brown and Indigenous children and families in the Portland metro area through a culturally responsive educational service model," said Annie Morse, HOLLA Grants Manager.
"We believe that changing systems of oppression for Black, Brown and Indigenous youth starts with providing meaningful relationships with caring, successful adult role models who reflect their identity."
HOLLA School uses a culturally responsive approach that decenters traditional white cultural norms in education and ensures the history, culture and experiences of BIPOC students and families are embedded within the mentorship. This grant will also help expand their collaboration with key BIPOC partners including Mudbone Grown andLatino Network.
Scaling capacity in the mentorship program will also help match the increasing student-to-mentor ratio need and will support HOLLA School's effort to grow their organization through expanding resources such as classrooms spaces, materials and staffing. Located inside of the Care Oregon Boys and Girls on the Rockwood community campus, HOLLA School is currently open to grades K-2, in hopes of scaling capacity to ultimately serve grades K-8.
"We are proud to invest in HOLLA School as they grow and serve more students and families in the Rockwood community," said Shawn DeCarlo, CareOregon director of community benefit. "Organizations like HOLLA School provide important access to education that centers the experiences, histories and cultures of the BIPOC communities they serve, and that access is going to make all the difference in the future of students in Rockwood.