PORTLAND, Ore. (March 10, 2023)— Today, Portland-based non-profit Bridges to Change launched an innovative new peer-led housing facility and program—the Tri-County Women's Stabilization House—to provide crisis stabilization supports for those experiencing cooccurring mental health symptoms and substance use needs.
The program aims to support individuals engaging in mental health or substance use treatment services through times of transition, such as between housing situations or levels of care, while helping them engage in healthcare services that encourage and sustain their recovery.
"With Oregon ranking 49th in the nation in access to mental health services and 50th in access to treatment for substance use disorder, providing support in these areas is as critical now as ever," said Jill Archer, Vice President of Behavioral Health at CareOregon.
"The Tri-County Women's Stabilization House and program fills a huge gap in our system by providing a safe space for folks to get the immediate help they need as they wait for long-term support. We know that people on the path to recovery are especially vulnerable to a recurrence of use or losing momentum during times of transition. That's why this Stabilization House is so crucial."

Case in point is the experience of Jesika H., a Bridges to Change client, who was trying to abstain from substance use and regain custody of her daughter. Jesika's mental health was heavily impacted by daily use, but she wanted to be proactive about changing. She went to detox while continuing to try to schedule her intake date for treatment. Following detox, she was able to maintain no substance use for three days alone in her apartment before she returned to use.
"I needed to go to detox because I was tired of sitting around here just doing the same thing," said Jesika H. "So, I got myself in. Then I had to come back to my apartment and call the inpatient facility every day to schedule my bed date. I ended up drinking again. I thought to myself, I wish there was a place for me to go in between. There should be a place for people to go that want to change so they can keep their motivation to keep moving forward."
The Tri-County Women's Stabilization House is able to fill this gap by providing 18 women-identifying CareOregon members at a time with up to 14-days of short-term stabilization services, which includes lodging, meals and services, as they transition to a more permanent setting.
Additionally, by staffing the center with certified mentors who have lived experience, the facility aims to create a safe and welcoming space that will best support long-term health and recovery needs. Staff will help residents manage their mental health symptoms and provide services and resources such as harm reduction approaches and connections to providers to support their stabilization.
"We have been hoping for a program like this for many years, and it's incredible to be able to see a service gap in the community filled through this collaboration," said Hannah Studer, Bridges to Change Deputy Director. "Many women in our community experience gaps in care and we believe this important service is an opportunity to strengthen connections to vital services and support broader health outcomes. Bridges to Change believes in health and housing for all, and this program is one step closer to that vision."
Funds for the program were provided by healthcare organization CareOregon. The $637,000 grant is helping cover staffing, operation and facility related costs.
The over 6,000 sq. ft. ADA accessible building is equipped with five bathrooms, four showers, dorm-style sleeping area, laundry room, commercial kitchen, two living rooms, salon and multiple private office and group spaces for guest services. Bridges to Change also plans to host community partners in the office spaces for rapid and onsite resource connections, including employment, long-term housing, behavioral health, grooming and hygiene, nursing or medical, culturally specific providers, volunteers and donation services.
"Supporting Bridges to Change in opening this new facility is a great step forward into finding innovative ways to be responsive to those with mental health and substance use needs," Archer said.
"We know that programs like this that are led and staffed by those with lived experience are able to reach folks in effective new ways, and we're proud to invest in Bridges to Change as they lead and shape this increasingly critical conversation."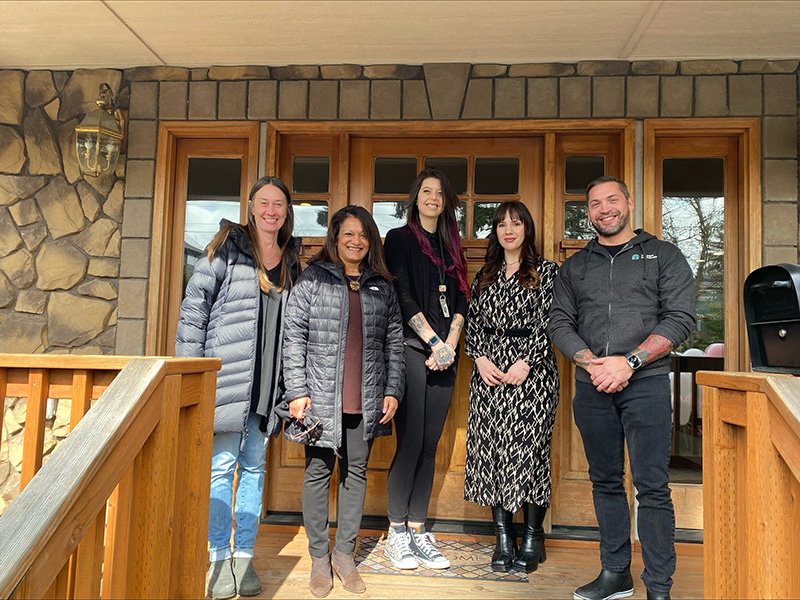 CareOregon's Jill Archer, Multnomah County Commissioner Jayapal, and members of the Bridges to Change team celebrated the opening of the Tri-County Women's Stabilization Program.
About Bridges to Change
Bridges to Change is one of the largest peer-led organizations in the state of Oregon. BTC was founded in 2004 with an aim to support people on their path to recovery through peer delivered services and stable housing. BTC continues to support participants on their recovery journeys through a combination of community-based housing, peer delivered services and behavioral health treatment.

About CareOregon
For more than 25 years, CareOregon has offered health services and community benefit programs to Oregon Health Plan members. Today, we support the needs of nearly 500,000 Oregonians through three coordinated care organizations, a Medicare Advantage plan, a Tribal Care Coordination program, a dental care organization, and in-home medical care with Housecall Providers. CareOregon members have access to integrated physical, dental and mental health care, and substance use treatment. We believe that good health requires more than clinics and hospitals, so we also connect members to housing, fresh food, education and transportation services. CareOregon is a mission-driven, community-based nonprofit with offices in Portland, Medford and Seaside, Oregon.