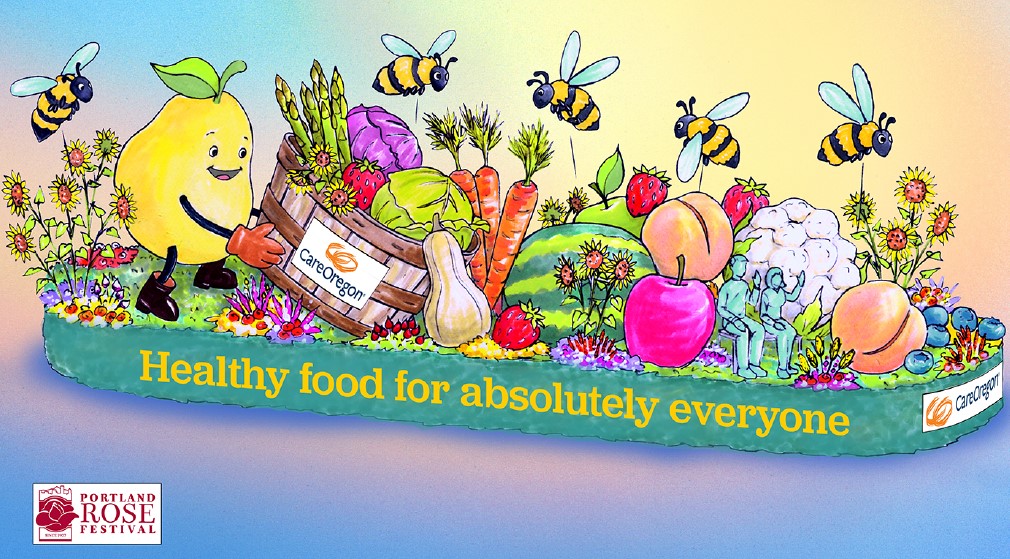 When you think of fun, healthy food might not be the first thing that comes to mind. For us at CareOregon, we know that access to food is the building block of a healthy and fun community. At this year's Grand Floral Parade, CareOregon shows that food can be fun with a whimsical food float inspired by Northwest grown fruits and veggies—and the people that grow them.
The float features a larger-than-life pear farmer showing off their Pacific Northwest grown fruits and vegetables. Overhead, bees pollinate the bright colored flowers and plants. Following closely behind, will be the CareOregon staff decked out in gardening and farming attire while dancing to hit tunes like Can't Help My Self (Sugar Pie, Honey Bunch).
"CareOregon is excited to show up as part of this year's Grand Floral Parade with a float that showcases an important building block to a healthy community like access to fresh and nutritious produce for absolutely everyone," said Shawn DeCarlo, CareOregon director of community benefit.
Riding on the float is the team from Mudbone Grown, a local Black-owned farm who works with CareOregon to get healthy produce to some of its members. Float riders include Mudbone Grown owners and co-founders Arthur Shavers and Shantae Johnson, as well as their youngest children.
Shantae Johnson (Program Director and Farm Manager)
Arthur Shavers (Operations and Infrastructure Project Manager)
Mone Auset Shavers and Sekou Shavers (their youngest children)
"I think that partnerships like this help to bridge the gap and also help support the local food systems by investing in Black farmers, investing in community and supporting our local food and healthcare system," said Shantae Johnson, Mudbone Grown co-founder.
CareOregon has been partnering with local farmers to provide Community Supported Agriculture (CSA) shares for its members since 2016 to improve individual and community health and access to fresh healthy foods. Last year, it was honored to welcome Mudbone Grown to its family of farmers.
Mudbone Grown: Feed'em Freedom Farm, one of the only Black-owned farms in our region, was co-founded by couple Shantae Johnson and Arthur Shavers in 2015. Their mission is to promote inter-generational community-based farming that aims to enhance food security for BIPOC individuals, create opportunities for Black farmers and improve community health.
The Grand Floral Parade takes place Saturday, June 10, 2023 and continues a 115-year colorful tradition that draws hundreds of thousands of Oregonians every year.