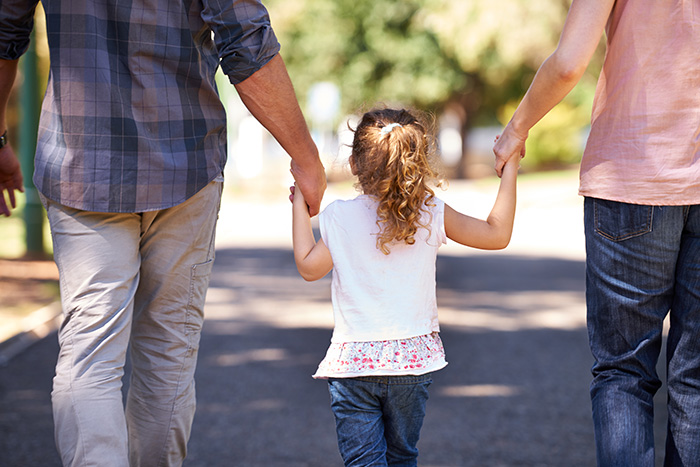 CareOregon, in partnership with Oregon Department of Human Services (ODHS), Child Welfare Division, youth foster agency Maple Star and mental health agency Catholic Community Services, launched the Response and Support Network Pilot Program (RSN) in Multnomah, Clackamas and Washington Counties to help support children and young people in foster care, and the families who care for them.
Challenges such as lack of timely support, resources and mental health services increase the risk of placement instability for children and young people in foster care. The RSN pilot is an innovative program that works to tackle this issue by providing whole family support for resource parents and children and young people in foster care. The result: a tremendous improvement in placement stability for the children and young people who received these services.
"For years, we've seen too many children and young people in foster care experienced placement disruption and we struggled to find a solution that could help us further support them and prevent placements in residential treatment settings," said Alex Salas, continuum of care coordinator for the ODHS Child Welfare Division. "Instead of trying to find a one size fits all solution for the system at-large, we embarked on an effort to identify children and young people that were most at risk for foster placement instability and find out why."
Beginning in 2019, the ODHS team led a year-long process in partnership with the community to identify why some children and young people were more likely to experience placement disruptions when living with a resource family, which could lead to residential levels of care.
Through regular meetings with community collaborators like CareOregon, resource parents and child welfare community partners, ODHS was able to gain a deeper understanding of the needs of these children and young people and their resource families, as well as learn about the constraints of existing supports.
"We were seeing that, because of the traumas they experienced, children and young people were acting out in their resource homes, which is to be expected," said Salas. "This often resulted in referrals to behavioral health services when they may have benefitted from immediate non-clinical supports instead. Through this collaborative process we were able to identify opportunities to better support resource families serving our highest needs children and young people. These resource families wanted to help, they just didn't have the tools and resources."
Armed with a better understanding of children and young people in foster care, ODHS set out to design a model of care tailored to their needs and the resource families that served them. The result was a prevention strategy that would support resource parents and children and young people when they need it, including 24/7 call center and in-person flexible parent support and access to same/next day mental health services. CareOregon worked alongside ODHS to help develop this model and supports about 50% of funding for the program.
The program first rolled out in Multnomah County in 2021 where it saw major success, with 63% of children and young people in foster care in the program experiencing improved placement stability. Using a two-tiered approach to managing care, the program meets the needs of resource parents by connecting families and children and young people to resources immediately to support stability, prevent disruption and stabilize housing.
"These kids are experiencing everything from trauma and isolation to insecurity and fear," said Amy Shea Reyes, CCO Behavioral Health Program Manager - Children, Youth and Families at CareOregon. "They are feeling and experiencing so much, and that ultimately impacts the way they behave in the home."
"When a child or young person who is in foster care moves into the home, it changes the dynamics for everyone, especially if they are having big emotions and behaviors. RSN supports the whole family, not just the child or young person in foster care. This might look like a parent mentor bringing a meal to the home or staying to talk through a challenge. These seemingly small acts can decrease stress, improve communication and stability within the home and allow for the youth to maintain their placement," Shea Reyes said.
The RSN pilot partners with child, youth and family community agencies Maple Star and Catholic Community Services to provide trauma-informed behavioral health supports and clinical services, including in-home support and skills training, as well as rapid access to behavioral health services.
A centerpiece of the pilot program is rapid access to support (low to no barrier), with families typically receiving in-person, same day support.
For example, if a child or young person is having a crisis in their resource home, pilot partner Catholic Community Services can quickly assign a clinician to complete a full mental health assessment. They can then consult with the caseworker and resource family about specific needs and assemble a team of skills trainers, therapists and psychiatrists that can work with the child or young person, as well as the resource family to process and cope with trauma and develop a sense of safety. More than just an emergency response, Catholic Community Services may continue to provide supports and services long-term when needed.
"We're so grateful for this program and these incredible partnerships; if they didn't exist, most of these kids would have unstable placements," said Hannah Bloombaum, Clinical Supervisor at Catholic Community Services. "The effort to find a solution has been in the works for a long time, and this feels like a real solution. The organic nature of our ability to go in and support these families in a way that feels most effective to them is really where this program has succeeded and superseded."
After the program's success in Multnomah County, the RSN pilot has now also launched in Washington County June 2022 and in Clackamas County June 2023, with hopes of emulating this model across the state.
"One of my hopes is that we perfect this kind of modeling and have it become an example of how an agency can work with nonprofit partners to better facilitate the needs of children and young people in foster care and provide continuity between services," Salas said.
How it works: A closer look at the successful Resource Support Network pilot
First tier of support – 24-hour helpline and a parent mentor (Maple Star)
Sometimes children who have experienced severe trauma can, because of this trauma, display challenging behaviors. Resource families sometimes struggle to support children with these behaviors and need additional hands-on support to navigate these issues.
To address this need, the RSN pilot provides a 24-hour helpline and access to a parent mentor through the social service agency Maple Star.
"It can be very difficult for children and young people in foster care, they have really been through so much. And through no fault of their own, because of the traumas they have experienced, their behavior is negatively impacted," said Erin Granath, Director of Community Service Programs at Maple Star.
"We've found that sometimes resource parents lack skills to support the foster youth address some of these behavioral issues. That's another way we come in and support the family; we provide skills training like de-escalation techniques that tackle these concerns, resolve conflict and hopefully prevent placement disruption."
A resource parent can call Maple Star whenever a need arises to request support either proactively or preventatively. They can also call if they need immediate support.
Maple Star will then send a parent mentor who has lived experience as a resource parent out to the family's home and make a full assessment of their needs. Services provided include 24/7 in-home crisis response, skills training for children and young people in foster care and resources families, parent mentoring, financial assistance, among other services.
What they offer is someone that resource parents can call around the clock. They provide a parent mentor who can go in and identify resources for the families. They can help coach them through a conflict, provide emotional support if they need someone to talk to and provide any additional services. Caseworkers have limited availability throughout the day, so a parent mentor is readily available to support and meet the needs of the youth in the home whenever it arises.
They also have a skills trainer and a youth mentor who can spend time with the youth to help them work on coping and communication skills and help stabilize the behaviors and issues that are causing concerns for resource families.
Maple Star is the first line of support for resource families and often can offer many of the supports that the families need—helping keep foster families together and providing a bridge of support while the youth is waiting to access more long-term resources.
Second tier of support – Rapid access to behavioral health support (Catholic Community Services)
For families serving children and young people in foster care with behavioral health challenges, barriers to accessing healthcare services can add extra stress and lead placement disruption. Depending on a child's needs, wait times for behavioral health services can range from weeks to months—creating an untenable situation for resource families unsure of where to turn for support.
To address this need, the RSN pilot offers rapid access to behavioral health support through Catholic Community Services. When families need more support than Maple Star can offer, they are able to do a warm handoff to CCS who is equipped to engage clients with the most intensive level of mental health needs in the community, including those who are a high safety risk in terms of suicidal ideation and/or physical aggression.
"What we do is support children and young people with high mental health needs, especially those with a lot of trauma history," Bloombaum said.
"Usually, resource parents who come to us feel in crisis and we can see that youth mental health needs are impacting their ability to support the child or young person in their care. We are a crucial step in the pilot program because we aim to offer services on a time frame that could really help stabilize the child or young person's placement within the community, which as we know can't wait for a long period of time because otherwise, they end up potentially moving and having placement instability."
Once a referral is made on behalf of the family, the family is then assigned a clinician and are scheduled for an intake, which includes a mental health assessment, safety planning and treatment planning.
Depending on the treatment plan, clients get a child and family therapist, 24/7 crisis support by phone and in person, case management and care coordination, skills training, intensive therapy, medicine management and more, to address all concerns that arise. All services are prioritized to be made available in home except psychiatry.
About Maple Star
Maple Star Oregon ("Maple Star") is a private non-profit Child Caring Agency licensed by the Oregon Department of Human Services (DHS) in 1998. Maple Star began providing therapeutic foster care in August of 1999 with a mission to provide quality, effective community-based social services to promote growth and well-being in youth and families.
About Catholic Community Services
Catholic Community Services and Catholic Housing Services offer a variety of programs and services to assist children, youth and families in need. Several programs offer housing for families with children. Catholic Community Services and Catholic Housing Services are made up of passionate staff, volunteers, advocates and donors who come from many faith traditions to serve and support the poorest and most vulnerable men, women, and children in Western Washington and the Portland metro area. Annually serving tens of thousands of clients of all beliefs, this committed CCS/CHS network is made up of over 180 programs and services, 4,100 dedicated employees and 3,000 selfless volunteers.

About CareOregon
For more than 25 years, CareOregon has offered health services and community benefit programs to Oregon Health Plan members. Today, we support the needs of more than 500,000 Oregonians through three coordinated care organizations, a Medicare Advantage plan, a Tribal Care Coordination program, a dental care organization, and in-home medical care with Housecall Providers. CareOregon members have access to integrated physical, dental and mental health care, and substance use treatment. We believe that good health requires more than clinics and hospitals, so we also connect members to housing, fresh food, education and transportation services. CareOregon is a mission-driven, community-based nonprofit with offices in Portland, Medford and Seaside, Oregon.
About ODHS
The mission of the Oregon Department of Human Services is to help Oregonians in their own communities achieve wellbeing and independence through opportunities that protect, empower, respect choice and preserve dignity.