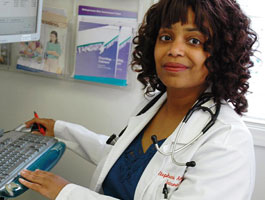 CareOregon Connect, CareOregon's Provider Portal
Our provider portal allows 24/7 access to:
Check detailed claim status.
Review remittance advices.
Submit and view authorizations on the detailed, line level.
Check detailed eligibility and member information, including PCP assignment, other insurance and benefits.
Create and print PCP rosters.
Search and verify ICD-10, CPT, HCPC, revenue codes and modifiers.
Need an account?
Best practice is to obtain a OneHealthPort account to gain single sign-on access to a variety of health plans, including CareOregon. Click here to register.


You can also choose to request an account directly through CareOregon Connect.

The first step is for your clinic administrator to register your organization:
Each organization is free to assign the administrator responsibility to the person(s) who best fits their needs.
The administrator manages and controls the administration of user access for your clinic, including adding and deleting users.
The administrator will have full security rights and can assign users different levels of access by selecting from a variety of pre-defined roles. For example: front desk staff may only need to see eligibility screens, as they do not work with claims or authorizations. HIPAA rules tell us that access should be based only on the minimum amount of information necessary for purposes of health care operations.
Each organization should also select a backup administrator.
Need help with the portal?
Note: CareOregon Connect no longer tests its functions for compatibility with Microsoft Internet Explorer (IE) 6 and 7. While we do not currently expect any difficulties with the older versions, if you have problems viewing the site, you may wish to upgrade to IE 8.
Privacy statement
CareOregon is committed to protecting the privacy of our members' information. Service providers may be authorized to use our web services for business purposes only. All authorized users must agree to use and disclose only the minimum amount of information necessary for purposes of health care operations, payment or treatment of CareOregon members, or as otherwise permitted by applicable laws and regulations. Unauthorized use of the system is strictly prohibited and may be subject to criminal prosecution.